This page lists and describes the unnamed USS Enterprise-E shuttlecraft.
Argo-typeEdit
This Argo-type shuttlecraft accompanied the Argo on a mission in a star system with numerous planets in the late-24th century. The leading edge of the cockpit-section was a distinctive red color. It followed the Argo back to the Enterprise's aft shuttle bay. (Ships of the Line 2014)
In 2375, this Type-11 shuttlecraft was used by Captain Jean-Luc Picard and Lieutenant Commander Worf to apprehend Data at the Ba'ku planet. (TNG movie & novelization: Star Trek: Insurrection)
Some time in or after 2379, three more unnamed Type-11s were lined up behind the Galileo in the main shuttlebay when the Argo returned to the Enterprise. (Ships of the Line 2011)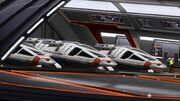 Unknown type
Edit
Three shuttles of an unknown type were parked in the Enterprise's aft shuttlebay when the Argo was on approach. (Ships of the Line 2014)
Appendices
Edit
Connections
Edit
Community content is available under
CC-BY-SA
unless otherwise noted.