List of unnamed Violaceans.
By year
[
]
2263
[
]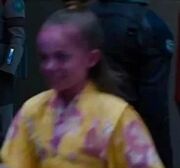 In the Kelvin timeline, a young girl with tied hair and bright yellow robe lived aboard Starbase Yorktown. She was present in the welcoming area when the USS Enterprise docked at the starbase in 2263. (TOS movie: Star Trek Beyond)
2268
[
]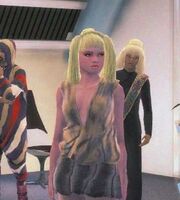 In the year 2268, one woman was the only Violacean delegate at the Babel Conference regarding the admission of the People's Republic of Coridan to the Federation. She conversed with other delegates during when Starfleet ferried the representatives aboard the USS Enterprise to Coridan III. (TOS episode: "Journey to Babel")
2286
[
]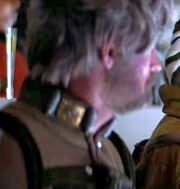 A Violacean ambassador was seated in the Council of the United Federation of Planets on Earth during the events of the Cetacean Probe crisis. This man stood out with his yellow irises. (TOS movie: The Voyage Home)
2293
[
]

Violacean delegates participated in the Khitomer Conference in Khitomer City on Khitomer II in 2293. (TOS movie: The Undiscovered Country)
2380
[
]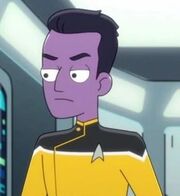 Violaceans served in Starfleet by the 24th century. In the 2380s, the crew of the California-class starship USS Cerritos included an ensign serving in the ship's security department. In 2380, his superior officer was Lieutenant Shaxs. (LD episodes: "Envoys", "Temporal Edict")
Later that year, another Violacean ensign transferred to the Cerritos. She was a member of the command division. (LD episode: "No Small Parts"
Appendices
[
]
Connections
[
]
External link
[
]