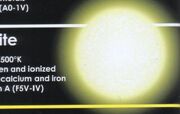 Upsilon Andromedae was a star with an associated system in the Alpha Quadrant of the Milky Way Galaxy. It was an F class star with a magnitude of +5 and was over 40 light-years from Sol. (ST reference: Star Charts)
Upsilon Andromedae appears on the "Trade Routes 22nd century" map (p.44) in Star Charts. It is of the same type and class of star, and in the same position as Farius, which appears on the "Alpha Quadrant Cardassian Union" map (p.47).
Community content is available under
CC-BY-SA
unless otherwise noted.