AT2Howell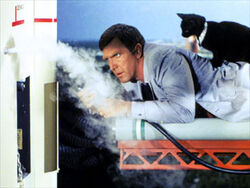 | | |
| --- | --- |
| BtVS | This user is a Buffy fan. |
"Later, Kirk awakens underground, in the dark, with no memory of who or where he is, or how he got there; it's a predicament he faces every time he goes on shore leave, except this time he still has his pants on." -- David Mack
I was doing the usual, keeping notes as I read through yet another book. I'd hit a few more details, and I could already tell that a certain person on this wiki would be enraged by them. Yes, I could see another drawn out argument headed my way. This one would end the same as the others, with me being suspended for disagreeing with him. At this point, I asked myself why I was still doing it. I'd had a good three years, and it was time to quit. I didn't want to end up like some obsessive nutter who treated this wiki as his personal property. So, I quit. I'll come back once in a while, whenever I see that something significant has been overlooked. Maybe I'll end up back here in a few years. Maybe by then there'll be someone new insisting that he alone is king of the wiki. You never know.

Remember, the devil is in the details.
"No. Christine Chapel is not Morgan Primus." -- Peter David
"Peter David wears red underpants, over his blue bodysuit." -- Dayton Ward
"Memory Beta is a great site. I rely on it all the time." -- Greg Cox

7000 EDITS IN MY FIRST YEAR!!!!!!!!!
1000 EDITS IN MY SECOND YEAR!!!!!!!!
2000 EDITS IN MY THIRD YEAR!!!!!!!!!!!!!!!
219 EDITS IN MY FOURTH YEAR!!!!!!!!!!!!!!!

[[Special:Editcount/AT2Howell|Special:Editcount/AT2Howell]] MB edits
Currently reading
ST - Typhon Pact novel: Paths of Disharmony
What I've read
Enterprise Era
The Original Series
Pre-Motion Picture (1970s)
Choose your own adventure
Phaser Fight (1986) by

Barbara Siegel

&

Scott Siegel
TOS Films
Post-Film Era (1980s to Present)
The Lost Era
Star Trek: The Lost Era (TLE) Serpents Among the Ruins by David R. George III (2003)
The Next Generation
Imzadi by Peter David
Q-Squared by Peter David
Survivors by Jean Lorrah
Masks by John Vornholt
A Call to Darkness by Michael Jan Friedman
A Rock and a Hard Place by Peter David
Doomsday World by Carmen Carter, Peter David, Michael Jan Friedman, and Robert Greenberger
Exiles by Howard Weinstein
Fortune's Light by Michael Jan Friedman
Contamination by John Vornholt
Q-in-Law by Peter David
Perchance to Dream by Howard Weinstein
Chains of Command by

W.A. McCay

and

E.L. Flood

War Drums by John Vornholt
Guises of the Mind by

Rebecca Neason

Sins of Commission by Susan Wright
Debtors' Planet by

W.R. Thompson

Requiem by Michael Jan Friedman and Kevin Ryan
Blaze of Glory by Simon Hawke
The Romulan Stratagem by Robert Greenberger
Into the Nebula by Gene DeWeese
Dragon's Honor by Kij Johnson and Greg Cox
Rogue Saucer by John Vornholt
Invasion!, Book 2: The Soldiers of Fear by Dean Wesley Smith and Kristine Kathryn Rusch
Infiltrator by

W.R. Thompson

The Death of Princes by John Peel
Intellivore by Diane Duane
Double Helix, Part 5: Double or Nothing by Peter David
Resistance by J.M. Dillard (2007)
TNG Films
Deep Space Nine
Bloodletter by K.W. Jeter
Station Rage by Diane Carey
Time's Enemy (Invasion! #3) by L.A. Graf
The Heart of the Warrior by John Gregory Betancourt
The Left Hand of Destiny Book 1 by J. G. Hertzler & Jeffrey Lang (2003)
The Left Hand of Destiny Book 2 by J. G. Hertzler & Jeffrey Lang (2003)
Voyager
New Frontier
IKS Gorkon - Klingon
Titan
Reference
Star Trek: Aliens & Artifacts

The Hologram's Handbook
Short Story
Young Adult
Destiny Novels
Federation