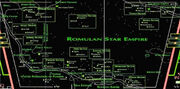 The V'varian sector is a sector of space within the galaxy's Beta Quadrant.
History and specifics
V'varian sector crosses the border between the Romulan Star Empire and the Taurhai Unity. (Last Unicorn RPG module: The Way of D'era: The Romulan Star Empire)
Locations
Appendices
Connections
Background
While the Last Unicorn RPG is not associated with the later video game product Fleet Command, the name of V'varian sector would seem to create an association with Fleet Command's V'varia star system.
References