For other uses, see

Vaadwaur

.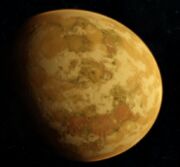 Vaadwaur Prime was a planet located in the galaxy's Delta Quadrant. It was the homeworld of the Vaadwaur species, who explored and exploited their quadrant by using subspace tunnels in a system called Underspace. (VOY episode: "Dragon's Teeth")
History and specifics
The Vaadwaur used Underspace to terrorize other cultures, travelling as far as Talax.
An alliance that included the Turei bombarded Vaadwaur Prime from orbit, forcing the population to enter stasis in underground facilities in 1484.
In 2376, the Turei harassed the wayward Federation starship USS Voyager, which was forced to land on Vaadwaur Prime to escape. Crewmember Seven of Nine helped revive the Vaadwaur from stasis. Gaul, their leader, betrayed Voyager, and Captain Kathryn Janeway made a deal with the Turei. While the Vaadwaur and Turei fought one another, Voyager escaped from the planet. Vaadwaur ships escaped into Underspace. (VOY episode: "Dragon's Teeth")
The Iconian Empire made the Vaadwaur Supremacy their vassals. They helped upgrade their outdated technology, and the Vaadwaur recovered additional personnel and resources from stasis chambers of former colony worlds. The Supremacy waged a war of domination against the quadrants, which led powers from the Alpha Quadrant to organize the local nations into the Delta Alliance. In 2410, civil war among the Vaadwaur led them to abandon their base on Kartella Prime. The Delta Alliance, with support from Commander Eldex's forces, assaulted Vaadwaur Prime and killed Gaul, ending the Vaadwaur war. (STO - The Delta Quadrant mission: "Takedown")
Appendices
Connections
Appearances and references
External links