For other uses, see Valiant.
The Valiant class was a type of Federation starship in Starfleet service, a 25th century tactical escort subclass based on the Defiant-class design. (ST video game: Star Trek Online)
History and specifications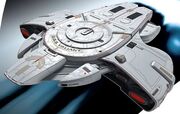 A Defiant-class warship USS Valiant (NCC-6089) was proposed in 2368 in the aftermath of the Battle of Wolf 359. It remained an unused concept in favor of launching the Defiant-class prototype USS Defiant. (The Official Starships Collection Issue Bonus issue 29: "USS Valiant Concept")
After years of trial and mothballing, the Defiant entered service in 2371. Its master systems display initially depicted the ship and its systems in the form of a Valiant-class vessel. (DS9 episode: "The Search")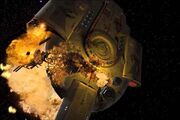 The USS Valiant (NCC-74210) then entered service as a regular Defiant-class warship but was lost during the Dominion War. (DS9 episode: "Valiant")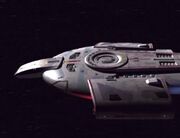 It was replaced by the fellow Defiant-class destroyer USS Valiant (NCC-75418) by 2376. (ST video game: Armada)
A new prototype Valiant entered service in the time of the Federation-Klingon War of 2405-2410. The design was an evolution of the 2370s-era Defiant. The Valiant appeared more compact than its sister classes. The first ship of the class was the USS Valiant (NCC-60890) in 2409. Ships of the class were rated as tactical escorts.
From 2410 onward, the Valiant represented its class in the Starfleet Shipyards Operations interface. (STO - Klingon War mission: "Welcome to Earth Spacedock")
Khitomer Alliance flag officer in, or aligned with, Starfleet, deployed Valiant for missions around the galaxy's four quadrants as part of the four-quadrant strategy. (STO - Klingon War mission: "Welcome to Earth Spacedock", admiralty system)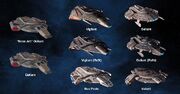 Following the Battle of Excalbia on stardate 84999.22[2] in January 2411, which saw the prominent involvement of hero ships from the Federation's past and present, the Valiant was among the tactical escorts that received a refit to legendary starship qualifications. (STO - J'Ula's Discovery missions: "The Measure of Morality (Part 2)", "Welcome to Earth Spacedock")
The Valiant was upgraded to a tier 6 legendary pilot warship, matching the qualifications of the upgraded Defiant class, premiered with the USS Valiant refit. (STO website: Legendary Pilot Warship)
Known vessels
Appendices
Connections
Appearances and references
Appearances
References
External links