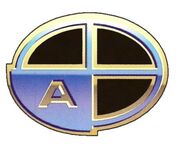 Vanden is a star system located in the space of the galaxy's Alpha Quadrant, within the borders of the Cardassian Union in Vanden sector, in the Zeta Andromedae sector block.
Vanden is the location of a planetary system, the orbit of which includes Vanden Prime, the 24th century location of a Cardassian population.
In the year 2375, Corat Damar made Vanden Prime the main base of the Cardassian Liberation Front. (DS9 episodes: "When It Rains...", "Tacking Into the Wind")
In 2378, the Taurus Pact took control of the Vanden system in the mirror universe. (ST - Mirror Universe novel: Rise Like Lions)
Vanden primary star
Community content is available under
CC-BY-SA
unless otherwise noted.