MAJOR SPOILERS
WARNING! This article contains MAJOR spoilers for the recently released episode Lost and Found. Caution is advised.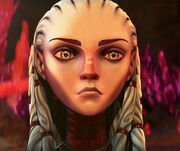 The Vau N'Akat were a humanoid species who lived in the galaxy's Delta Quadrant. Their homeworld was the planet Solum. Solum was also the name of the Vau N'Akat language.
The Vau N'Akat possessed neuroflux-based technology, which allowed them to control objects with their minds.
As of 2383, the only two known surviving Vau N'Akat were the Diviner and his daughter Gwyn, who were in charge of the Tars Lamora prison colony. Gwyn used neuroflux to turn her armbands into a sword. (PRD episode: "Lost and Found")
Known individuals
Appendices
External links