Vendus A was a star system, located somewhere in the space of the galaxy's Alpha or Beta Quadrants, at coordinates -4245, -1.
History and specifics
Vendus A system's orbit contained a number of planets, including Aidegot, Zikubak, Wamai, Bahubaa, Zoseh, Eoziw and Uaqud. Resources such as dilithium and raw ore could be found here.
The Vendus A vicinity was in in area claimed by the Romulan Star Empire in the 23rd century of the Kelvin timeline, with notable known nearby systems including Sufiday, Rator, Wauoxic, Strezhi, Nipaj, Jeuaiei, Rooth and Mewudoh. (ST video game: Fleet Command)
In the game software this system has the ID number 1342058302. Players in this system are likely to encounter a Romulan Imperial Fleet patrol or a Romulan

trader

here.
System makeup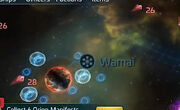 Aidegot

Zikubak

Bahubaa

Zoseh

Eoziw

Uaqud
Appendices
Connections
Vendus A star system
Vendus A primary star:

Aidegot

•

Zikubak

• Wamai •

Bahubaa

•

Zoseh

•

Eoziw

•

Uaqud
Background
While Fleet Command does not establish quadrant locations for game settings, the placement within the Romulan Star Empire strongly indicates that this system is in the galaxy's Beta Quadrant. However, the fact that some parts of Romulan space cross into the Alpha Quadrant in other sources casts doubt on that being sufficient evidence to definitively state a quadrant location for the purposes of this wiki.
The nomenclature of Vendus A ending in "A" might indicated this is part of a multiple star or

star group

named "Vendus", with this being the primary or most prominent member. However, it is also possible that the "A" is a phonetic outgrowth of some aspect of the Romulan language (or another language) and is not related to an alphabetical stellar nomenclature.
References