Vendus A was a star system, located somewhere in the space of the galaxy's Alpha or Beta Quadrants, at coordinates -4245, -1.
Vendus A system's orbit contained a number of planets, including Aidegot, Zikubak, Wamai, Bahubaa, Zoseh, Eoziw and Uaqud. Resources such as dilithium and raw ore could be found here.
The Vendus A vicinity was in in area claimed by the Romulan Star Empire in the 23rd century of the Kelvin timeline, with notable known nearby systems including Sufiday, Rator, Wauoxic, Strezhi, Nipaj, Jeuaiei, Rooth and Mewudoh. (ST video game: Fleet Command)
In the game software this system has the ID number 1342058302. Players in this system are likely to encounter a Romulan Imperial Fleet patrol or a Romulan trader here.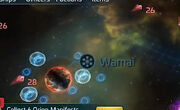 Community content is available under
CC-BY-SA
unless otherwise noted.