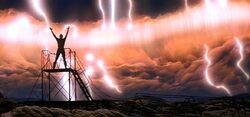 Veridian III is an unpopulated Class M planet located in the Veridian system.
In 2371, Dr. Tolian Soran chose Veridian III as the location for his re-entry into the Nexus energy ribbon following the destruction of the Amargosa and Veridian stars. With assistance from Lursa and B'Etor, of the House of Duras, Soran managed to obtain trilithium in order to create missiles to destroy the stars and redirect the Nexus.
Following the destruction of the Amargosa system, the USS Enterprise-D pursued Soran to Veridian III in order to stop his plans. While the Enterprise faced the Duras sisters' Klingon Bird-of-Prey in orbit, Captain Jean-Luc Picard beamed down to Veridian to negotiate with Soran.
Unfortunately, the Duras sisters were able to inflict heavy damage on the Enterprise before they were destroyed, which resulted in an uncontrollable warp core breach which forced the crew to escape in the saucer section. Before they could reach a safe distance, the stardrive section exploded and sent the saucer plummeting into Veridian III's atmosphere. (TNG movie: Star Trek Generations)
Later that year, Ambassador Spock traveled from Romulus to Veridian III in order to view the site of Kirk and Picard's conflict with Soran and to retrieve his former captain's body. (ST - Spock: Reflections comic: "Issue 3")
Connections
Edit
External link
Edit
Community content is available under
CC-BY-SA
unless otherwise noted.