This article or section needs attention
This page or section has been identified as needing attention. Please visit the article's talk page to see what needs fixing and feel free to edit this page to assist with this task..
The Vo'n'talk class,[2] also known as 22nd century bird-of-prey,[2] was a Klingon starship type, a bird-of-prey class in the Empire's Defense Force and Great House service from the 22nd[1] to the 23rd century.[2] (ENT episode & novelization: The Expanse)
Service history and specifications
Design
The Vo'n'talk-class bird of prey was 145 meters long. (The Official Starships Collection Issue 35: "Klingon Bird-of-Prey")
Nimble bird-like craft known as birds-of-prey had been an essential part of the fleet since the Klingons achieved spaceflight. While the design was adapted to become more and more powerful, the basic layout of an engineering hull with a pair of wings and a bridge module connected by a long neck to the primary hull remained consistent. Like their precursors, the Bird-of-Prey of the 22nd century served as scouts and raiders. (The Official Starships Collection Issue 35: "Klingon Bird-of-Prey")
In the early 25th century, the QuIDun- and Norgh-class Birds-of-Prey designs harked back to their earlier counterpart. The pointed bridge module and the dorsal superstructure on the engineering hull were reminiscent of their precursor. (ST video game: Star Trek Online)
Size
At a length of 145.36 meters, the Vo'n'talk was smaller than the D'ama- and D5-class battlecruisers and often served as escorts to them. (The Official Starships Collection Issue 35: "Klingon Bird-of-Prey")
This bird-of-prey came to perform the roles of patrol ships and scouts and eventually supplanted the smaller Raptor-class in the 2150s. (The Official Starships Collection Issue 41: "Klingon Raptor")
22nd century Birds-of-Prey have a substantially higher number of disruptor banks compared to their later relatives however one assumes the disruptor cannons of later variations would be somewhat more powerful.
The Bird-of-Prey is a formidable opponent, but does possess one Achilles-heel: a direct hit on the main plasma junction above the sensor array can disable the entire power grid, at which point the vessel can be easily neutralized. (ENT episode: "The Augments")
History
The Vo'n'talk class was co-developed by engineers of the House of Antaak in the 22nd century and launched in the year 2149.
It was the first class referred to by outsiders as a bird of prey. (Star Trek Adventures module: The Klingon Empire Core Rulebook)
Duras's bird-of-prey was the first ship of this class encountered by United Earth, when it engaged in battle with the Earth Starfleet ships Enterprise NX-01, SS Intrepid and a Ganges-class} vessel. Starfleet forced Duras, son of Toral to retreat. Accompanied by two more birds-of-prey of this class, Duras attacked Enterprise again on the edge of the Delphic Expanse but was outwitted by the Humans, who destroyed his ship. Duras' escorts retreated. (ENT episode & novelization: The Expanse)
Early in 2154, Human Augments captured a Vo'n'talk-class ship. Malik's bird-of-prey become a concern for both Starfleet and the Klingon Empire, and was pursued by Enterprise. (ENT episodes: "Borderland", "The Augments", "Cold Station 12")
Ships of this class participated in Admiral Krell's bombardment of Qu'Vat colony later that year. (ENT episode: "Divergence")
In the 2200s decade, other vessels out-competed the Vo'n'talk as a fast interceptor. Ships of this class refitted into its successor type, the Tu'YuQ-class. Acting as couriers and heavy ground attack vessels, ships of the class continued to serve the Great Houses until the late 23rd century. (Star Trek Adventures module: The Klingon Empire Core Rulebook)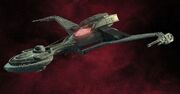 The class re-entered service during the Klingon Civil War of 2411, soon after J'Ula had secured Boreth and helped revive L'Rell, former Mother of the Klingon Empire. Classified as a legendary starship, the Vo'n'talk bird-of-prey's abilities and equipment now matched that of its more modern sister classes B'rel, B'Rolth, Kor, and the Koloth (raider). This meant that the ship's wings only swept down from their flight-mode position during combat, and swept up above flight-mode during planetary landing. (STO website: The Legendary B'rel Bird of Prey)
Known vessels
Appendices
Connections
References and notes
External link