For other uses, see Vyntadi.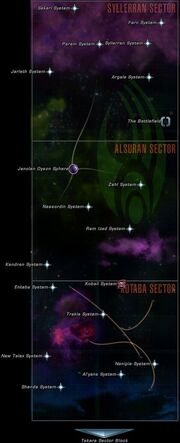 The Vyntadi sector block was a region of space, a sector block located in the galaxy's Delta Quadrant. The block was made of three sectors, the Syllerran sector, the Alsuran sector, and the Kotaba sector. The Alpha Quadrant Alliance used the Vyntadi sector block as an astrometric reference from 2410 until the commencement of the Iconian War. (STO video games: Delta Rising, The Iconian War)
The sector block's name was derived from the Vyntadi Expanse, which lay in or near Sector 41741. (ST reference: Star Charts, STO video game: Delta Rising)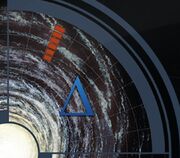 The Vyntadi sector block became more easily accessible to the AQA powers through the Iconian gateway connecting the Tau Dewa sector block with the Jenolan Dyson Sphere. (STO - The Delta Quadrant mission: "Mindscape")
This sector block was situated 60.000 to 65.000 light-years from Sol, spanning circa 5kly in length. (ST reference: Star Charts)
In 2410, the AQA poured into the Delta Quadrant after the Jenolan Dyson Sphere jumped there. While the AQA and the Voth already contested the Delta Quadrant-based Solanae Dyson Sphere but had not ventured outside the Dyson sphere en masse.
The AQA soon became embroiled in the Vaadwaur Supremacy's war against local powers. Controlled by the Bluegills, an Iconian Empire servitor race, the Vaadwaur attempted to conquer the Delta Quadrant, starting with the Vyntadi and Tekara sector blocks. (STO video game: Delta Rising)
The AQA forged an alliance between the besiged powers, the Delta Alliance. Together, the AQA and the Delta Alliance members defeated the Vaadwaur at Vaadwaur Prime. (STO - The Delta Quadrant mission: "Takedown")
Community content is available under
CC-BY-SA
unless otherwise noted.