The Walker class was a type of Federation vessel, a starship class in Starfleet service in the 23rd century. The class had entered service in the year 2221. Intially successful, the class spawned several ships. By 2249, it was considered an aging design. (DSC novel: Desperate Hours, DSC episode: "Battle at the Binary Stars")
By 2255, at least one Walker-class starship, the USS Shenzhou, had been in service for decades. Lagging behind in technical upgrades, it was not a match for an up-to-date Constitution-class heavy cruiser. (DSC novel: Desperate Hours)
Physically, a vessel of the class included a saucer section with a navigational deflector integrated in the bow, and, atypically for a Starfleet vessel, a bridge at the bottom of the saucer. A compact secondary hull was attached to the rear of the saucer, and sat between a pair of nacelle pylons with one warp nacelle each. A Walker had 15 decks. (DSC episode: "The Vulcan Hello")
This ship class was capable of atmospheric flight by means of thrusters scattered over its hull. It carried shuttlecraft and worker bees, as well as escape pods. It was equipped with lateral vector transporters. (DSC episodes: "The Vulcan Hello", "Battle at the Binary Stars")
The ship's armament included phase cannons, phasers, and photon torpedoes. (DSC episode: "Battle at the Binary Stars")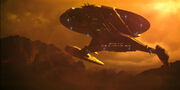 A ship of this class, the Shenzhou, was lost in the Battle of the Binary Stars on May 11th, 2256.
Six months later, a picture of a Walker adorned a mess hall wall of the USS Discovery. (DSC episode: "Context Is For Kings")
Community content is available under
CC-BY-SA
unless otherwise noted.