The Wallenberg class was a 24th century Federation starship type, a transport class in Starfleet service in the 2380s decade. (PIC novel: The Last Best Hope)
History and specifications
Following the revelation of an impending supernova of the Romulan star Eisn in 2381, Starfleet mounted a relocation operation for affected worlds. The USS Nightingale was a Wallenberg-class transport refitted for people mass transport while a dedicated rescue armada was under construction at the Utopia Planitia Fleet Yards. Admiral Jean-Luc Picard approved of selecting the Nightingale (PIC novel: The Last Best Hope)
The Nightingale was involved with relocating Romulan citizens from the Eisn system. (PIC episode: "Absolute Candor")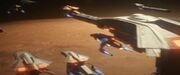 Ships of this class were assembled en masse at the Utopia Planitia Fleet Yards, under the auspices of Commander Geordi La Forge and utilizing Captain Bruce Maddox's revolutionary A500 synths. (PIC novel: The Last Best Hope)
In the transport configuration, the Wallenberg class consisted of a small, angular saucer section, with a pair of underslung warp nacelles connected by nacelle pylons. On either side of the aft section, impulse engines were attached. Suspended below the rear of the vessel was a sled for attaching cargo modules. Several cargo modules could be linked in a chain. In 2385, several Wallenbergs orbited Mars. Varying numbers of cargo modules were attached to the transports.
On 05 April of that year, Zhat Vash agent Oh directed the A500 synths to attack Mars and its production facilities, eradicating the Wallenberg rescue fleet. (PIC episode: "Maps and Legends")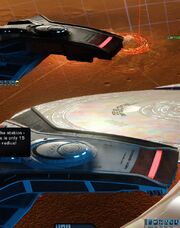 In 2411, Commander Ethan Burgess of Starfleet Intelligence oversaw a battle simulation of the Attack on Mars for Khitomer Alliance commanding officers. In these simulations, a task force of five ships beamed engineers from the planet's surface up and onto Wallenberg transports and other ships, all while under siege from Synth frigates and Synth destroyers. Forty-four Wallenbergs appeared in the simulation, all of which could be saved. (STO - House Shattered mission: "Synth Wave")
Known vessels
Appendices
Connections
Background
The class may be named for the Human Raoul Wallenberg, who used his position as a Swedish diplomat to save tens of thousands of Hungarian Jews from the Holocaust on Earth in the 20th century.
External links