For other uses, see War Games.
Costello • Aman Evek • Felat • Kelloway • Alynna Nechayev
Referenced only 
Referenced only 
Bolian • Cardassian • Human • Vulcan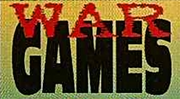 The story has been listed as both "Wargames" and "War Games" when being referenced in both Malibu publicity material and story reviews, as the words were split across two lines, in two different fonts.
"War Games" serves as a prequel to The Maquis: Soldier of Peace, as well as "Caretaker", the pilot episode of Star Trek: Voyager.
Community content is available under
CC-BY-SA
unless otherwise noted.