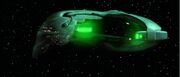 Warbird is a starship classification for Romulan warships, the nomenclature originates with an original Warbird, one of the vessels lost among the fleet that colonized Romulus . The Romulan practice of decorating their warships with the images of large predatory avians may also stem from, or be responsible, for this terminology.
The term has been applied to various ship classes at different times, usually the Romulans' dominant ship type of the period. For much of the 24th century, "warbird" referred to the D'deridex class. Other warbird classes include:
An unusual hybrid starship encountered by the USS Enterprise-D in 2370 included components of a Romulan warbird. (TNG comic: Strategy)
From it's presentation in the comic the ship was most likely made from part of a D'deridex class vessel.
Connections
Community content is available under
CC-BY-SA
unless otherwise noted.