Washington, District of Columbia was a small city on Earth located in the eastern part of the United States of America. The city was not considered part of any state, and instead is located in its own political subdivision, also known as a Federal District. The city was established as the capital city of the United States in the late 18th century.
Eli Underwood once visited Washington, DC for a meeting. (DS9 novel: Unity)
In 2259, Khan Noonien Singh claimed that the Augment leadership destroyed Washington, DC with a nuclear weapon in 1992. Due to fragmented records from the time, James T. Kirk and Spock could not verify his account. (TOS comic: "Khan, Issue 2")
Washington, DC was an early casualty of World War III, when a nuclear device was detonated over the city in the 2050s. After the war, Colonel Phillip Green operated out of the district, giving a 2056 speech from a protective dome in the city. (TNG novelization: Star Trek: First Contact, ST reference: Federation: The First 150 Years)
An overhead detonation is consistent with a radiation attack, where the actual explosion does not touch the majority of a target, but the blast EM pulse and radiation fallout does major damage to inhabitants and technological infrastructure.
The city of Washington had recovered by the late 24th century, becoming a relatively crowded metropolis.
Doctor Jennifer Almieri kept an apartment in the Old Georgetown neighborhood of Washington in the 2370s. An office of Starfleet Medical Forensics Division was also located in the city. (CoE eBook: Ghost)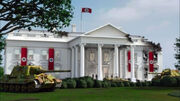 One of the factions in the Temporal Cold War, the Na'kuhl, became stranded in the 20th century, and allied themselves with Nazi Germany. By providing them with advanced weaponry, they enabled German forces to capture Washington along with most of the Atlantic seaboard by 1944. This timeline was negated when the Enterprise, which had been transported back in time by temporal agent Daniels, was able to destroy Vosk's temporal conduit. (ENT episode: "Storm Front")
In the Kelvin timeline, officials from Washington regularly traveled to Iowa to monitor the construction of the USS Enterprise. (TOS novelization: Star Trek). And according to Khan Noonien Singh during his trial in 2259, the city was supposedly destroyed in a nuclear attack along with Moscow in the opening hours of the Eugenics Wars. (TOS comic: "Khan, Issue 2")
Community content is available under
CC-BY-SA
unless otherwise noted.