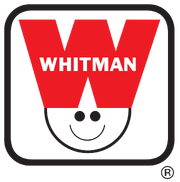 Whitman Publishing is a book and comic book publishing company, once a subsidiary of Western Publishing.
Whitman published the first original Star Trek: The Original Series novel, Mission to Horatius, in 1968. The company also published the first series of Star Trek comic books through its imprint, Gold Key Comics, and released three other stories in the form of coloring books.
Gold Key comic stories were reprinted by Whitman Publishing in two omnibus releases, one under the Whitman imprint and the other under the Golden Press imprint. These stories were also extensively licensed for reprinting and foreign translation. Whitman licensed 23 reprints of the first issue, "The Planet of No Return", with other publishers between 1967 and 1980, 15 of those in other languages. Only two stories, "The Planet of No Life" and "The Empire Man", were left without a reprint in the 20th century.
Whitman's coloring books were reprinted by Merrigold Press.
Whitman imprint releases
Whitman imprint omnibus releases
Appendices
Images
External links