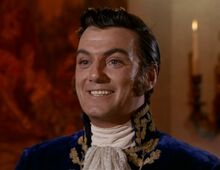 William Campbell (1923 - 2011) was an American actor who played Trelane in the Star Trek episode "The Squire of Gothos" and Koloth in the Star Trek episode "The Trouble with Tribbles" and the Star Trek: Deep Space Nine episode "Blood Oath". Campbell also voiced Trelane in Judgment Rites.
Campbell's early career included many motion pictures, including the films The Sheriff of Fractured Jaw, The People Against O'Hara and Escape from Fort Bravo. Campbell later moved to television, most notably starring in the series Cannonball.
External links
Edit
Community content is available under
CC-BY-SA
unless otherwise noted.