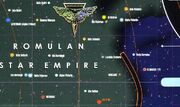 Xi Hydrae (also known as 13 Crateris and 288 G Hydrae) is a binary star system located in Federation space near the Romulan Star Empire, visible from Earth in the Hydra constellation, in the galaxy's Beta Quadrant.
Xi Hydrae is the home of planet Xi Hydrae IV, more commonly known as Visalayan, homeworld of the Medusans. (ST references: Star Charts, The Worlds of the Federation)
Although the Star Trek reference work lists this as a binary, current astronomy has charted it as a solitary star.
Community content is available under
CC-BY-SA
unless otherwise noted.