For the mirror universe counterpart, see Xon (mirror).
Xon was a male Vulcan who was a member of Starfleet Intelligence.
Biography
Edit
Xon was born on Vulcan in the early 2260s and was betrothed by the 2270s. After his original bond-mate died in a tragic accident, Ambassador Sarek arranged for Xon to be betrothed to the half-Romulan Saavik. (TOS - Saavik's Story comic: "Pon Far!")
As of 2285, Xon held the rank of Captain, and held an office on the second level of Starfleet Academy. (TOS movie: The Wrath of Khan)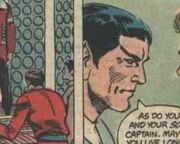 Later that year, on stardate 8185.35, Xon was sent by the Federation on a secret mission to the galactic barrier. Posing as a Romulan, he investigated the Romulan plot to duplicate Gary Mitchell's powers, before being discovered and interrogated. He was rescued by Saavik and the crew of the USS Enterprise. (TOS - Saavik's Story comic: "Blood Fever")
Alternate events
Edit
In one version of events, the young Xon was assigned to a refit Enterprise as a replacement for Commander Spock as science officer. (TOS - Phase II comic: "The Fear")
Appendices
Edit
Background
Edit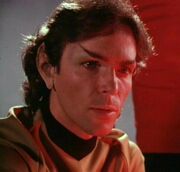 Lieutenant Xon was written to replace Spock as science officer in the planned series Star Trek: Phase II, where he was to be played by David Gautreaux. By the time of Star Trek: The Motion Picture, Spock's replacement was rewritten as Commander Sonak, in case the Vulcan character extensively researched by Gautreaux might yet have a place in future productions. According to a Starfleet Academy personnel manifest in the background of the area outside of the Kobayashi Maru scenario simulator, a Captain Xon had an office located at #213 (Star Trek II: The Wrath of Khan). The character of Data on Star Trek: The Next Generation was loosely based on the Phase II idea of Xon being a Vulcan emulating human behavior.
Appearances and references
Edit
Appearances
Edit
References
Edit
External links
Edit
Community content is available under
CC-BY-SA
unless otherwise noted.