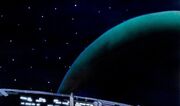 Yarlin is a village on the planet Bajor that is close to the Perikian Mountains.
Proximity to the Perikian Mountains makes it likely that Yarlin is either in Kendra or Makar Province.
In the year 2348, Vedek Opaka Sulan spent several months in Yarlin preaching sermons. While in Yarlin, Opaka had a vision of Gar Osen in the Fire Caves. (ST - Terok Nor novel: Night of the Wolves)
Community content is available under
CC-BY-SA
unless otherwise noted.