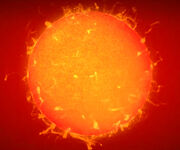 A yellow giant is one type of giant star, belonging to classification of yellow stars .
A yellow giant is a star near the end of its life that has exhausted the hydrogen in its core and swelled to a large size. Such stars could belong to spectral types F or G and have become larger than most main sequence stars. (ST reference: Star Charts)
Community content is available under
CC-BY-SA
unless otherwise noted.