For other uses, see Yellowstone.
The Yellowstone-class was a type of runabout used by the Federation Starfleet in the early 25th century.
History
In the primary universe the Yellowstone-class was the newest runabout class in Federation service. The Federation also made it available to Romulan Republic commanding officers assigned to work alongside Starfleet. (ST video game: Star Trek Online)
Alternate timeline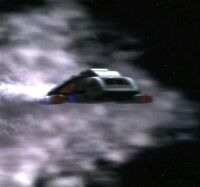 In an alternate timeline, the Yellowstone-class was an upgrade to the Danube-class. The prototype of this class was the USS Yellowstone, designed by the Starfleet Corps of Engineers and constructed in 2371. Lieutenant Lasca and Ensign Harry Kim both worked on the vessel, the latter of whom was responsible for designing the warp drive.
The Yellowstone had one key design flaw in terms of working out a dilithium fracture problem. Several weeks were spent on resolving the problem, which was "cured" with new plasma flow equations. On stardate 49011, after six months of work, Lasca and Kim conducted a presentation to Admiral Strickler on the Yellowstone, focusing on the fracture problem. Strickler found the design of the Yellowstone to be interesting.
Although the prototype was spaceworthy, construction on the Yellowstone was still underway in early 2372. Many of the ship's defensive systems were still unfinished, including unplaced safety interlocks. The runabout was stored in spacedock. (VOY episode: "Non Sequitur")
Technical data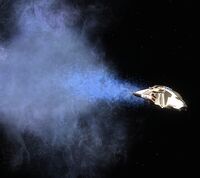 The Yellowstone-class featured a standard tractor beam and was equal in agility to the Danube-class. It was sometimes deployed aboard carriers as a fighter craft. (ST video game: Star Trek Online)
In both timelines where the class was present, it was powered by a tetryon plasma impulse engine. The pilot could vent this plasma behind the ship and potentially disrupt the warp drive of other starships. (VOY episode: "Non Sequitur"; ST video game: Star Trek Online)
Appendices
Background
The Yellowstone-class that appeared in the Star Trek: Voyager episode "Non Sequitur" was modified from stock footage of the Deep Space 9 Danube-class runabouts USS Orinoco and Rio Grande.
Appearance and references
Connections
External links