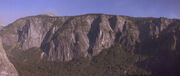 Yosemite National Park is an area located on the North American continent on Earth. The park is well known for its scenic beauty, as well as being the location of El Capitan.
In 2287, James T. Kirk, Spock, and Leonard McCoy traveled into Yosemite National Park for a camping trip. While there, Captain Kirk attempted to climb El Capitan. (TOS movie: Star Trek V: The Final Frontier; TOS novel: The Fire and the Rose)
The Fire and the Rose erroneously gives El Capitan's location as

Yellowstone National Park

.
Benjamin Sisko and Jennifer Sisko conceived their son Jake in Yosemite while camping there. (DS9 novel: Inferno)
External links