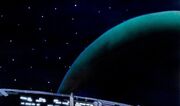 Yvrig was a city on Bajor on another peninsula on the same continent as Perikian Peninsula.
History and specifics
During ancient times, it had a thriving port, until the city was destroyed by the collapse of the entrance to the Fire Caves. Pirate slaves who had witnessed the collapse claimed there was some kind of blue fire when the caves collapsed.
Without Yvrig, Natlar Port became the only viable port on the southern part of the continent, triggering a massive increase in traffic. (DS9 - Gateways- What Lay Beyond short story: "Horn and Ivory")
Appendices
Connections
References