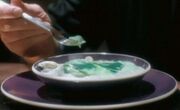 Zabu meat stew (also known as zabo meat stew) was a Cardassian food preparation, a stew made of zabu meat cooked in white broth.
History and specifics
Zabu meat stew was available from the replicators aboard Starbase Deep Space 9.
In the year 2370, Keiko O'Brien offered zabo stew for dinner to a guest, Rugal. Both Rugal and Keiko's husband, Miles O'Brien, disliked the stew. (DS9 episode: "Cardassians", ST reference: The Star Trek Encyclopedia)
In the early 25th century, Cardassian zabu stew was commonly available from replicators on space stations and starships. It was also sold at various bars for a price of 20 energy credits. Such vendors included Club 47 on deck 47 of Earth Spacedock, Quark's bar on DS9's promenade, the 602 Club at Starfleet Academy on Earth, and Andorian park rangers on Andoria.

In tribble breeding, feeding the Tuffli subspecies could breed a Jasperson tribble. (STO - Common Ground mission: "Welcome to Earth Spacedock")
In the Alpha Quadrant, zabu stew was used by Khitomer Alliance duty officers to fulfill assignments in the Kalandra sector. (STO - Cardassian Front mission: "Heading into Deep Space", duty officer assignments: "Prepare Kalandra Sector Surprise", "Develop Variations of the Kalandra Sector Surprise")
Appendices
Connections
References
External links