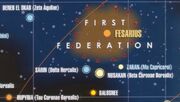 Zaran (also known as Mu Capricorni) is a star and associated star system located in the space of the galaxy's Alpha Quadrant.
A type F white star, Zaran was in the vicinity of Delta Herculis and Beta Coronae Borealis, near the borders of the First Federation. It was visible from Earth in the constellation of Capricornus. Zaran was the location of a planetary system, including Zaran II. (ST reference: Star Charts)
Community content is available under
CC-BY-SA
unless otherwise noted.