The Zhang Sui (NCC-1701/9) was a 23rd century[2] Federation auxiliary craft, a Phase II shuttle[1] in Starfleet service in the 2270s decade. Around that time, the Zhang Sui was assigned to the Constitution-class (Enterprise-subclass refit) starship USS Enterprise. (TOS novel: Ex Machina, The Official Starships Collection Issue Bonus Edition 19: "Phase II Concept")
In the 2260s decade, a Class F shuttlecraft carried the registry number NCC-1701/9 on the pre-refit Enterprise. (TAS episode: "Once Upon a Planet")
In the year 2273, the Zhang Sui transported a landing party to Yonada to take part in negotiations between various Yonadi political and religious factions. The shuttle was piloted by Lieutenant Pavel Chekov, and its passengers included Captain Kirk, Lieutenant Commander Christopher Lindstrom and three security officers. (TOS novel: Ex Machina)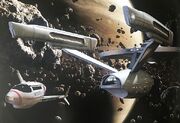 On one occasion, the Zhang Sui departed the shuttlebay while Enterprise was within a class J gas giant's ring system. The shuttle was well away from the vessel's hull while the shuttlebay's clamshell doors were still in the process of closing.
At another time, the Zhang Sui was flying ahead of Enterprise in orbit of a terrestrial planet with atmosphere. (The Official Starships Collection Issue Bonus Edition 19: "Phase II Concept")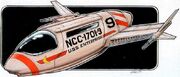 Community content is available under
CC-BY-SA
unless otherwise noted.